EPP Group – Youth Week 2023
Thursday, 7th September
Day 4: 
An Engagement and An Engaged Youth
To Close EPP Group Youth Week 2023
Engagement
Presentations and pitches ready, there was one very important job to do before we invited our Team Up! Working Groups to take to the stage in the Hemicycle of the European Parliament.
That job was a proposal. Not a political one, but the romantic kind. 
Moderator Jack Parrock invited Kuldar Lepp and Marta Schönberg from Estonia to join him. 
At this moment Jack stood aside and right then, Kuldar dropped onto one knee and produced a ring. The gasps in the Hemicycle united us as Marta cried and said 'yes.' A standing ovation, roaring applause and an engagement brought a whole new energy to day four of EPP Group Youth Week 2023.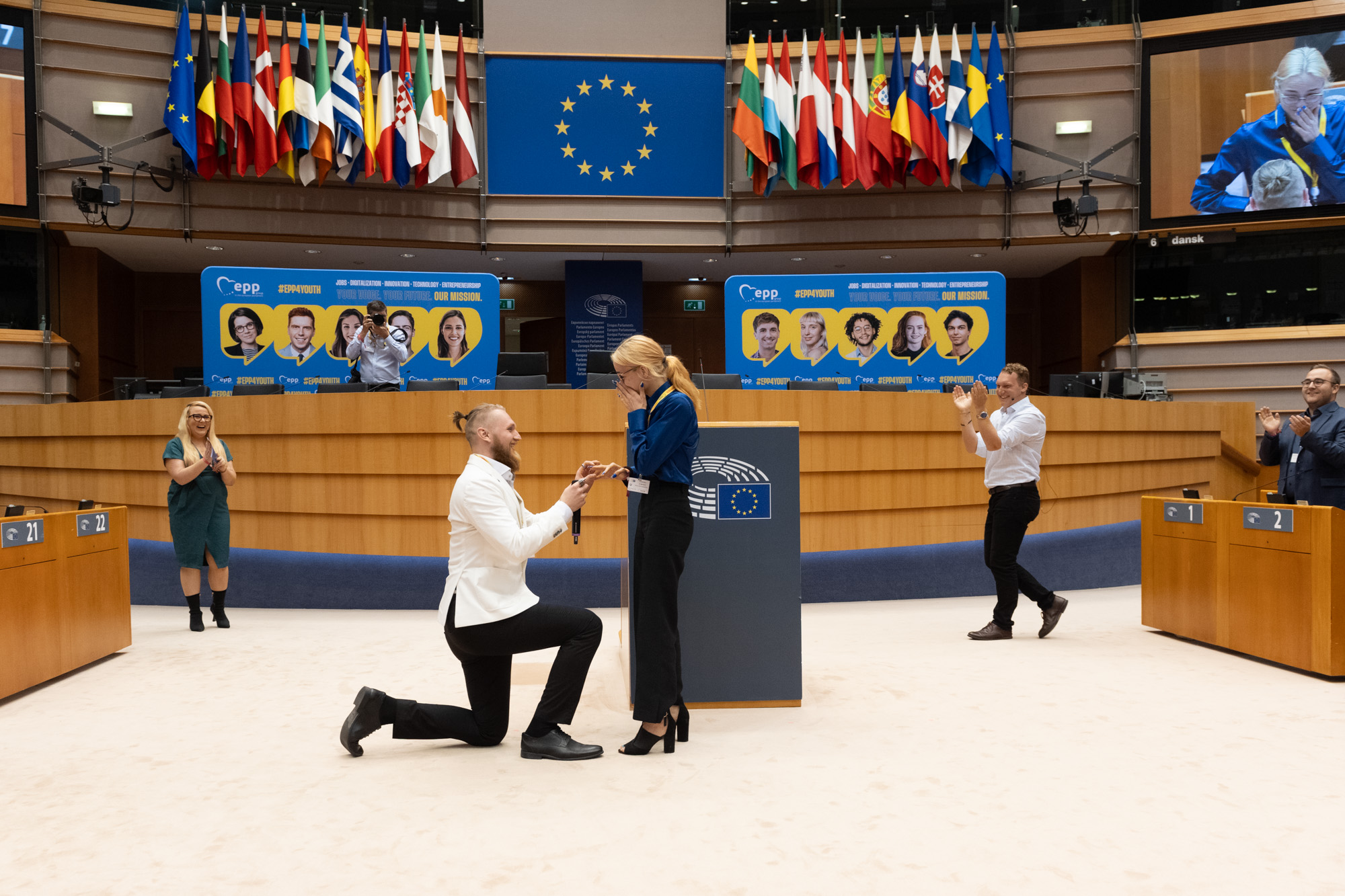 View our full photo gallery HERE
8 big ideas for a better Europe for youth
Then it was down to business to hear from our eight youth groups who had spent the week unlocking and better understanding the biggest challenges facing youth. 
Here are the teams and their big ideas. 
The Architects of Integrity – they called for higher standards and tighter governance to prevent political corruption in the EU.
EPPic – tackling the un-affordability of property for youth, this group called for interest free mortgages for young people.

 

Youth4Youth – building on Erasmus+ this group called for a gap year for all adults in the EU where they could take one year out to learn new skills, experience new cultures and reenergise themselves for the future of new jobs.

 

You Are Welcome – calling for a better 'You Are Welcome' to the EU around the expansion of the Union and disrupting disinformation.

 

EuroGuardians – taking on the migration crisis, this group called for greater resources for Frontex to safeguard the human rights of all citizens.

 

Cyber-Storytellers – inspired by Cocos Law in Ireland, this group launched an awareness campaign for the remaining 24 member states to criminalise cyberbullying.

 

ReFarmation – making farming a career of choice for youth was the call to action by this group who chanted "you may need a doctor once or twice a year but you need a farmer three times a day. No farmers, no food."
SolidariT – taking on the EU demographic deficit this group presented a values-based

  

awareness campaign to promote great citizen engagement.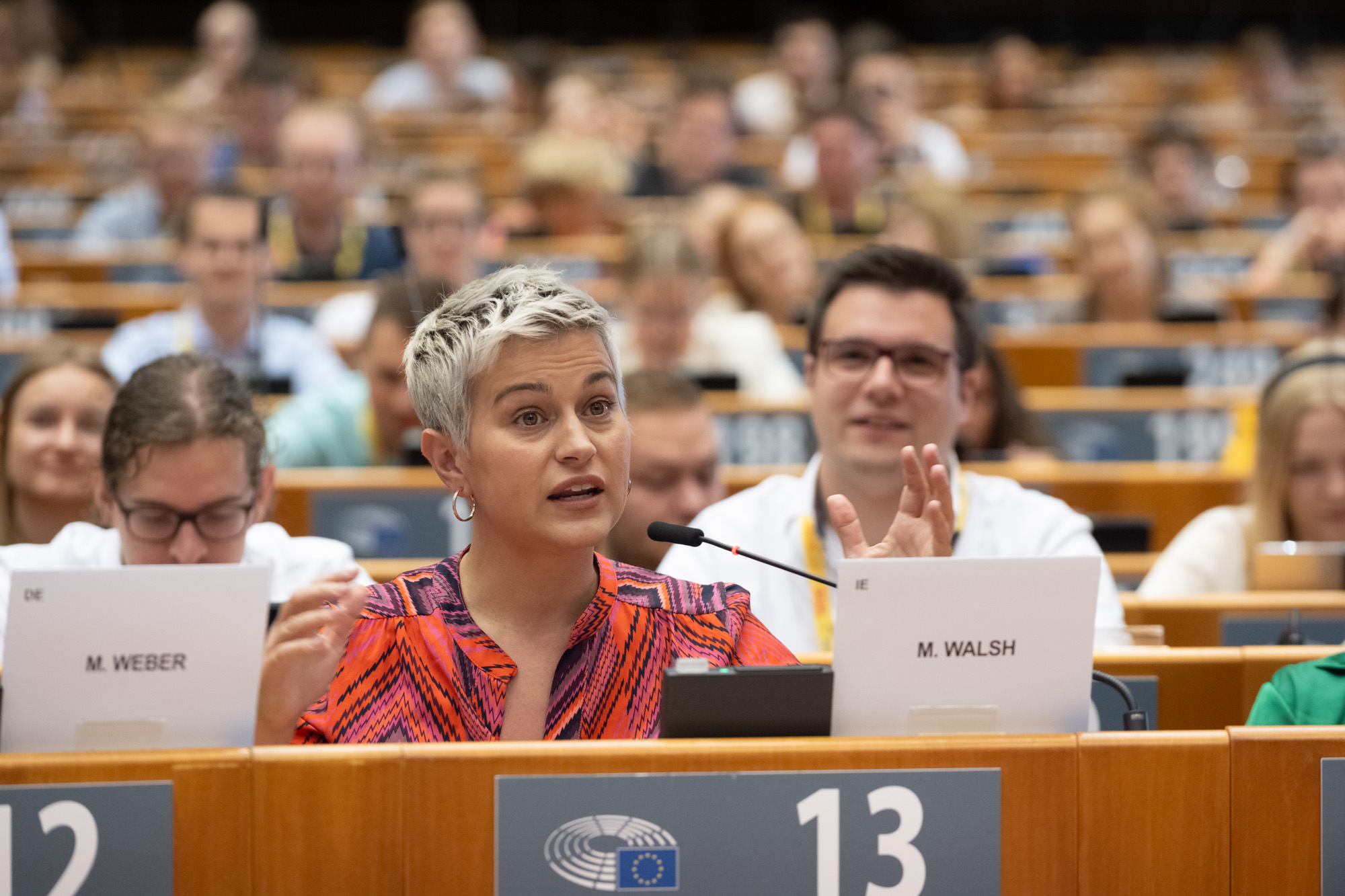 The top three
After a five-minute presentation followed by a three-minute Q&A with MEPs Lídia Pereira, Isabel Wiseler-Lima and Maria Walsh as well as the youth delegates – there was a vote on the question – 'Would this social media campaign stop you scrolling?'
The top three teams to deliver a one-minute elevator pitch after the votes were counted were:
You Are Welcome
Cyber-Stortellers
ReFarmation
The winners!
A second vote with the question – 'Who are your winners?' – saw ReFarmation take the title of EPP Group Youth Week campaign of the year 2023. 
This group will now go forward and pitch their big idea to revitalise an interest in farming among youth to an external meeting of the Heads of EPP Group. 
Thank you
We want to thank especially all our youth delegates for joining us in Brussels for the past four days. Your energy, enthusiasm and passion for the EU is remarkable.  Our future is bright.  
We want to thank the staff of the European Parliament and our own Events and Social Media Teams, moderators, facilitators and external support for your dedication to our vision. 
View our highlights video