EPP Group – Youth Week 2023
Tuesday, 5th September
Day 2: Youth Take Their Seats
in the European Parliament Inspired to Act
Inside the Youth Week village tent and kicking off day two, our delegates were treated to expert insights covering campaigning, storytelling and an invitation to act. 
Deborah Nash, CEO of Teneo Brussels told us that citizens are more likely to vote for parties that have a vision, and a roadmap. 
Sally Murphy, a Communications Consultant from Ireland inspired us with her own story, illustrating the power of story to connect and resonate. 
"Stories are magic." Sally invited youth delegates to share their stories to inspire and mobilise. 
Tom Cochran, PR Consultant and former Chief Digital Advisor to the Obama Administration and US State Department brought us into the White House on the first day of Obama's Presidency. 
He told us, "winning the election is the easy part, governing is hard."
The Obama Administration called for open and accountable democracy from the inside. 
Transparency  

Participation 

Collaboration 
View our highlights video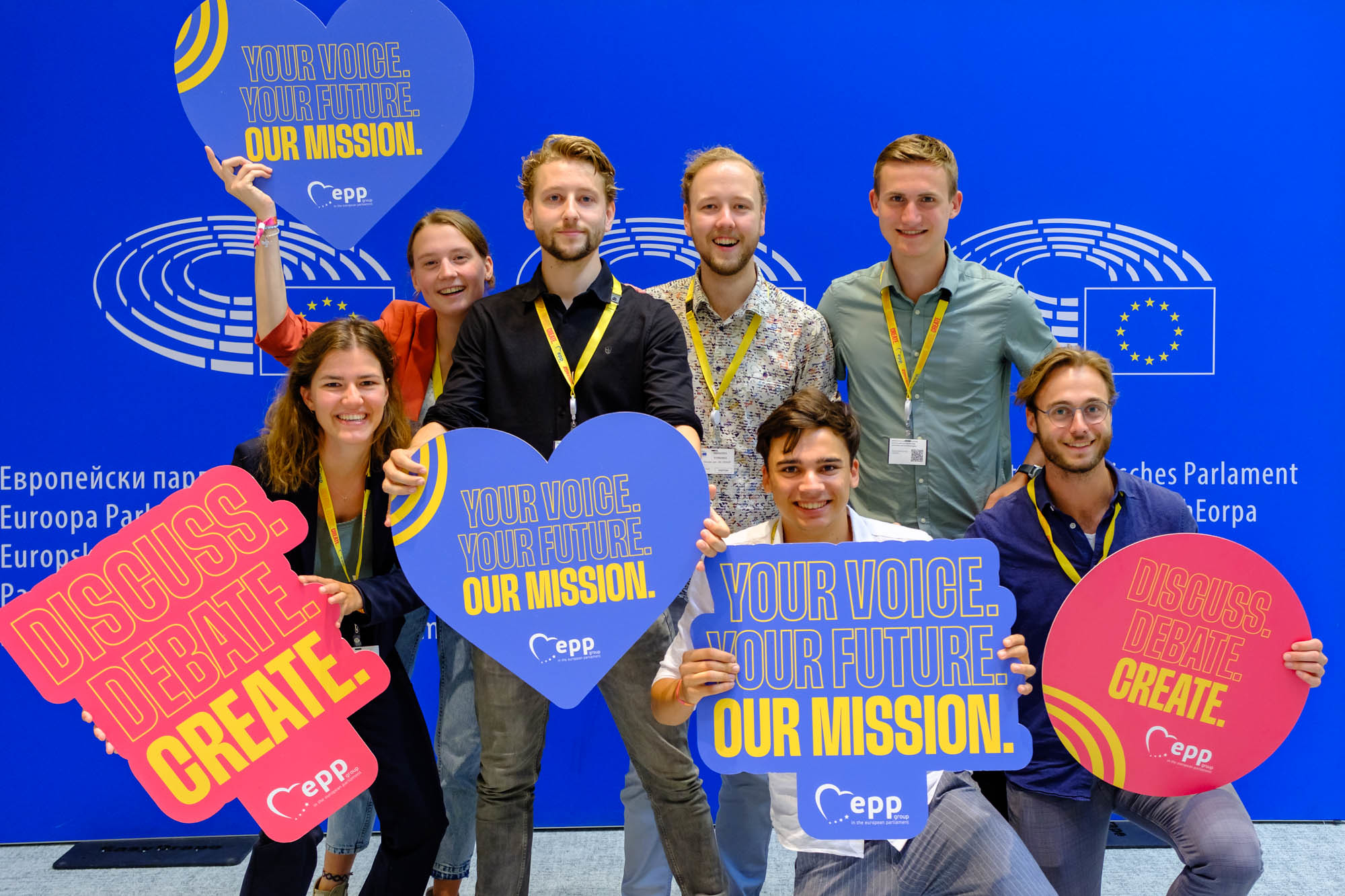 View our full photo gallery HERE
Be the future 
In the afternoon youth delegates had the opportunity to ask EPP Group Chairman Manfred Weber, European Parliament President Roberta Metsola, and young MEPs Eva Maydell and Lídia Pereira questions about the challenges facing their generation. 
MEP Weber impressed the values of the EPP Group as a European bridge-builder – "it is in our DNA" – and he invited youth to put forward their big ideas this week.
President Metsola also made a call to action to the youth-filled Hemicycle.
"Thank you for believing in Europe. If we do not defend our Union, we will see cracks in our foundations. I appeal to you, do not give in to cynicism. Find your voice, find your cause, and fight for it."
Key themes from political interventions 
A Europe that can overcome some of our greatest challenges, that was the message during our five themed briefings in the Hemicycle. 
The Future of Europe's Economy for Trade Relations

Europe's Economy Supporting Youth

A Europe That Protects 

A Europe That Creates Opportunities and Protects Our Environment 

A Europe of Solidarity
We thank our Commissioners and MEPs for their valuable interventions which sparked lots of youth questions and discussion. 
Friends and European neighbours 
Delegates ended the day with a networking event at Autoworld where they took Manfred Weber's advice – "get to know Europe from different perspectives by speaking to your peers from other EU countries."
***
We look forward to another day of inspired action when youth delegates get to work in our facilitated workshops for day three.